As an employer, you may be able to sponsor and hire a worker from another country thanks to the H-1B visa program. The program is designed to help companies find qualified help in highly specialized fields, such as finance and accounting, IT, science, architecture and more. Under the H-1B visa program, some employers qualify to hire foreign nationals who can work in the U.S. for a set period of time. For many companies, the process is easier with the help of an H-1B lawyer.
What is an H-1B Visa?
The U.S. government's H-1B visa program allows employers to recruit and hire foreign workers when necessary. Not all employers qualify, though – these visas are only available to people in certain fields. U.S. Citizenship and Immigration Services defines these fields as "occupations that require the theoretical and practical application of a body of highly specialized knowledge and a bachelor's degree or higher in the specific specialty, or its equivalent."
There's a cap on the number of H-1B visas that the government gives out each year, too.
The catch is that people can't simply apply for an H-1B visa. Instead, a qualifying employer must apply on a candidate's behalf – and the employer must have a current job opening for that specific candidate at the time of application.
Job Specifics for an H-1B Visa
Your company must have a job opening for the candidate you want to hire in order for you to petition the U.S. government for an H-1B visa on his or her behalf. The job that you have open has to meet these criteria:
The job's normal minimum entry requirement is to have a bachelor's degree or its equivalent, or higher
The job is so complex or unique that it can only be performed by a person with a degree, or the degree requirement for the job is standard in the industry
You (the employer) usually require a degree or its equivalent to fill this position
Your H-1B visa lawyer can help you determine whether your company meets these criteria.
Requirements Your Candidate Must Meet to Qualify for an H-1B Visa
The person you wish to hire must also meet certain criteria in order to qualify for an H-1B visa. He or she must:
Have a U.S. bachelor's or higher degree that correlates with the job, and the degree must be from an accredited college or university
Have an unrestricted state registration, or certification which authorizes the practice of the specialty occupation, and he or she must be engaged in that specialty in the state of intended employment
Have the training, experience or education necessary to be considered equivalent to a degree in the same field
Hold a foreign degree that's equivalent to the one a person must have to perform the job you're offering
If your candidate doesn't meet all of these criteria, you can't apply for an H-1B visa on his or her behalf. There is one exception, though, and it's for fashion models.
When you want to hire a fashion model, you may be able to use this program. However, it's only available when the position or services require a prominent model. USCIS says that the model you're hiring has to be "a fashion model of distinguished merit and ability." You can talk to your H-1B attorney to get more specific information if this applies to your situation.
Are There Enough H-1B Visas Available?
The government can change the number of these visas that it offers. Currently, the cap is set at 65,000 per year. However, USCIS has determined that an additional 20,000 people can come in under the program, provided that those people have earned a U.S. master's degree or higher. After those 20,000 people are granted visas under the "advanced degree exemption," the government won't issue any additional H-1B visas until the following year.
Some employers don't have to worry about the cap. They include:
Institutions of higher learning
Affiliates of colleges and universities
Nonprofit organizations
Nonprofit research organizations
Government research organizations
Can Workers Sponsor Their Families Under H-1B Visas?
In many cases, H-1B visa recipients can bring their families to the U.S. with them. Family members can't come under the same type of visa, though – they must come under the H-4 nonimmigrant visa program. This program is open to spouses and workers' unmarried kids who are under the age of 21. The family members your candidate brings must also meet all the eligibility criteria necessary for entering the U.S. and be admissible to the country. Your candidate's family members with H-4 nonimmigrant visas can stay as long as your candidate does.
What About Work or School for Family Members?
Most H-4 nonimmigrant visa recipients aren't allowed to work while they're in the U.S. However, some can file an application for employment authorization. Generally, H-4 family members are allowed to attend school here. If you have specific questions about your situation, your H-1B visa attorney can help you get the answers you need.
Federal Requirements for Sponsoring Workers on H-1B Visas
If you want to hire foreign workers to fill a specialty position in your company, you must:
Notify your employees that you're looking for H-1B nonimmigrants. Federal law requires you to do so.
File a Labor Condition Application.
File Form I-29 after your Labor Condition Application is approved.
What is a Labor Condition Application?
Commonly called an LCA, a labor condition application is one of the documents your H-1B visa lawyer has to file with the Employment and Training Administration under the Department of Labor. The Department of Labor must approve the application before you're allowed to ask the government to bring in a foreign worker. The LCA includes an agreement that says you'll maintain certain working conditions and that you've undertaken a good-faith effort to find U.S. employees.
How to Apply for an H-1B Visa for a Worker You Want to Hire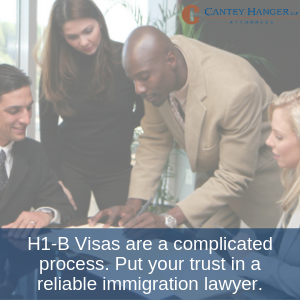 Because applying for an H-1B visa can be a complicated process, most companies choose to work with an H-1B visa attorney who understands the process.
We may be able to help you get the workers you need. Call us now to set up a consultation with an experienced, caring and committed H-1B visa lawyer – we'll answer your questions and help you put your business on track to grow with the right employees.