Finding the best immigration lawyer in Fort Worth seems like a big task – but you can use these tips to narrow your search and zero in on the right attorney for your needs.
Tips to Find the Best Immigration Lawyer
Whether you're trying to get a visa to come to the U.S., you want to help your family immigrate, or you're ready to sponsor workers from outside the country, you need an immigration lawyer in Fort Worth who can answer all your questions, file the appropriate paperwork with the right agencies, and make the entire process as smooth as possible. Use these tips to find an attorney who can get you the best possible outcome:
Be objective about what the lawyer promises you
Look at the attorney's experience
Conduct an in-person or phone interview to get a feel for the lawyer's personality and style
Be Objective
First things first: you need to make sure you're dealing with an attorney, not someone billing him- or herself as a visa consultant, petition preparer or notario. These people are not attorneys and can't give you legal advice. Worse, they may not even know what they're doing.
When you are dealing with an immigration attorney in Fort Worth, he or she can only tell you the truth – and no attorney can ever guarantee you a certain outcome. Your case's fate is in USCIS's, Homeland Security's, or an immigration judge's hands… not your lawyer's.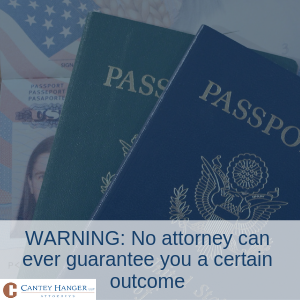 Pro tip: Always watch out for lawyers who tell you to lie on an application or in an interview, or who ask you for money to bribe officials. If you encounter an attorney like this, run. Doing these things can get you into heaps of trouble, and you may even be barred from entering the United States in the future as a result.
Look at Experience
United States law can be complicated (have you seen the Immigration and Nationality Act?), so for most people, it makes sense to work with an experienced Fort Worth immigration attorney. That's not to say that working with a new lawyer is bad – it's only to say that lawyers who have filled out hundreds of immigration forms know what to look for, how to help prepare their clients for interviews, and understands what kinds of issues can trip up an application and drag out the process.
Conduct an Interview
One of the most important things you can do when you're looking for the best immigration lawyer for your needs is to conduct an interview. You can set something up at the attorney's office or you can conduct an over-the-phone interview – but you definitely have to do it. This way, you can get a good feel for how the lawyer communicates, ask all your questions and see whether you "click."
Do You Need to Talk to an Immigration Lawyer in Fort Worth?
If you're considering immigrating to the U.S. or you want to sponsor foreign workers, we may be able to help you. Call 817-529-4509 to schedule a consultation with an experienced, knowledgeable attorney today.